We recommend that you fully explore the manufacturer's websites for full information on their Hi-Fi equipment, including technical specifications. Below are a selection of links and photographs (click on the camera icon) that represent some of the more current items. Please contact us with any specific enquiries for any of the range, so that we can send relevant brochures to you.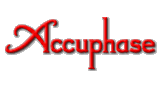 Please visit the Accuphase site for a complete and up-to-date picture of their range.
---
DAC
The Nagra DAC (Digital Audio Converter) is a two-channel 24-bit, 192kHz up-sampled Digital-to-Analog converter for High-End audiophiles.
---